Everyone who's interested in hair care must have at least heard of the most revolutionary product in hair business nowadays – Olaplex. Olaplex is in every hairsalon and its remarkable results cannot been noticed. That's why I wanted to make a Olaplex  treatment review myself: I bought the Olaplex kit from Amazon and tried it at home for my damaged and dry hair with split-ends. You can read the result of the Olaplex treatment with before and after pictures from the end of this article! Before the Olaplex review, I want to explain what is Olaplex treatment, why you should try it and how to buy Olaplex on Amazon.
What is Olaplex? – Olaplex Treatment Review
Olaplex treatment repairs damaged hair by finding single sulfur hydrogen bonds and cross linking them back together to form disulfide bonds. It's basically a bond-multiplier containing a single active ingredient, Bis-Aminopropyl Diglycol Dimaleate. Disulfide bonds are broken via chemical, thermal, and mechanical processes.
I found very intriguing that Olaplex is totally free of silicone, sulfates, phthalates, DEA, aldehydes, and is never tested on animals. Compared to other hair products, which most of them are full off cones, Olaplex doesn't build a layer of silicone on to hair to make them just look good. Instead it really repairs hair from the inside and prevents further damage. I have to remind that Olaplex is not a conditioner and it cannot be compared to regular repair conditioners! Olaplex works internally while conditioners works externally. Olaplex crosses link single sulfur hydrogen bonds to create disulfide bonds. Moisture and protein are entirely separate issues that should be addressed separately.
I must say I had doubts of Olaplex treatment before trying it myself. I checked every before and after picture on the internet and I read every article and Olaplex review I could find. Could Olaplex really be this amazing and if it is as great as been said, why everyone wouldn't use it – always? Find out what was my Olaplex experience – here is my Olaplex treatment review.
Olaplex Treatment Review – Before and After
I wanted to try my first Olaplex treatment at home because in salon it's so expensive for my long hair. I found very reasonable priced Olaplex kit from Amazon and the kit lasts for several uses. You can read about where and how to buy Olaplex for home after my Olaplex review.
Before Olaplex Treatment – Olaplex Review
First I want to tell about my hair before the Olaplex treatment. My hair is waist-length and wavy, almost naturally curly. Especially when the weather is humid my hair gets frizzy and curly. I'm growing my natural color back but at least half of my hair has still remains of brown hair color. Because of the dyeing and using hair straightener and hairdryer, ends of my hair is dry, damaged and I have a lots of split-ends. I use a lot of different natural oils in my hair care, which have improved condition of my hair extremely, but there was a way to go towards totally healthy hair. So before Olaplex treatment my hair was kind of ideal to this product. NOTE: I didn't use Olaplex while dyeing my hair but as a treatment for just damaged and dry hair!
Pictures before Olaplex treatment
In these before pictures I have washed my hair on previous day and my hair looks dry and brittle.


After Olaplex Treatment – Olaplex Review
I used Olaplex No. 1, 2 and 3 with instructions I found on the internet. (Altough, later I'm going to write an article about how to use Olaplex at home beacuse it can be a bit tricky for the first time.) After I had washed No. 3 off, I dryed my hair and watched the results. I was amazed! As healthy hair I haven't have in years. My hair is so shiny, smooth and sleek that I want to play with them all the time.
The first difference I noticed while I combed my wet hair. The comb went gently through my hair without any tangles getting in the way! This has happened last time maybe ten years ago I guess. After I blow dried my hair, I noticed my hair was totally smooth, which is weird because I have always had kind of coarse hair quality. Now it was kind of slippery and glassy even. And I totally love it! My hair sets down nicely these days and I don't have coarse and dry hair anymore. Split-ends are almost gone and my hair are truly less-damaged. After one use I'm convinced this is the best treatment I have done to my hair. But I have to remind that Olaplex doesn't do miracles! It didn't make my hair 100% healthy but the improvement was huge. It's definitely worth every dollar, though. I wonder how my hair will look year from now after I have used Olaplex treatment several times.
Most of the users use Olaplex treatment while dyeing or bleaching hair to prevent damages and with my result I could totally recommend using Olaplex while dyeing too. At least next time I'm going to dye my hair, I'm definitely going to use Olaplex.
Pictures after Olaplex treatment
These are the arfter pictures and I can see the improvement is crazy. I haven't done anything to my hair in these pictures. Just air dried them after showering. Usually my hair feels like this after I've been using hair straightener and blow drier but now my hair feels like silk without heat! Of course the ends are still a bit dry but no product can do miracles, right? And after several uses I hope my hair looks even better!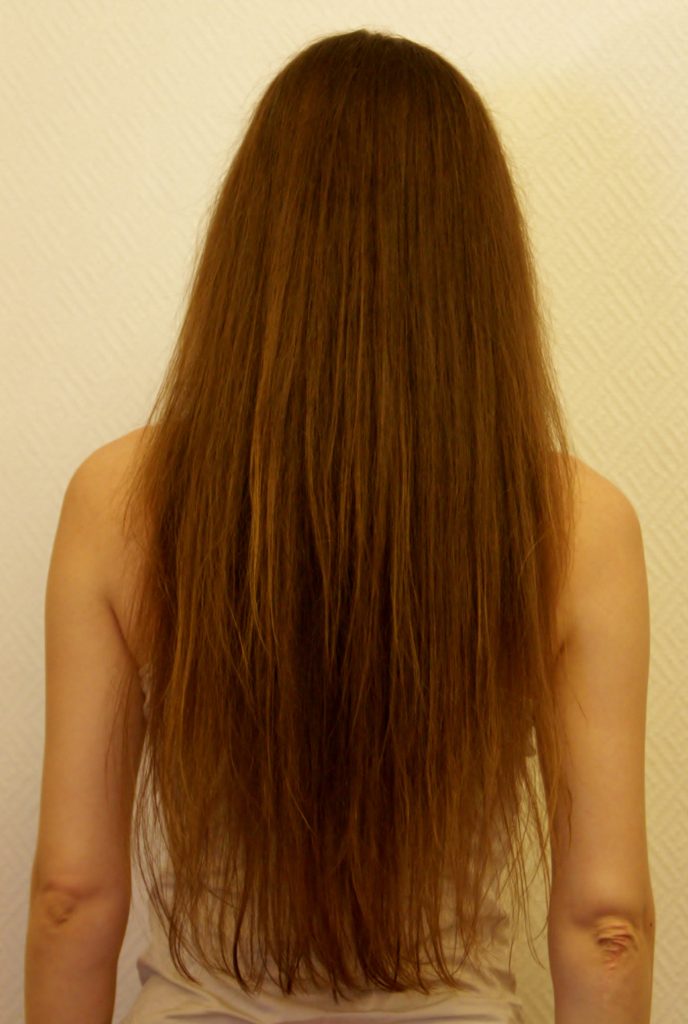 Where to Buy Olaplex –  Olaplex on Amazon
First when Olaplex came to the market it was available for professional use only. Fortunately nowadays there are a few sellers  on Amazon so everyone can buy them. I must say that there are plenty of fraud sellers that sells pirate Olaplex on the internet. Luckily I found a very legit seller who sells Olaplex on Amazon and my products were 100% real.
---
My hair is so long and I wanted to use Olaplex several times. Therefore I bought the biggest size available for me and my friends. This kit includes one bottle of No. 1 Olaplex bond multiplier and two bottles of No.2 bond perfector. I also bought No.3 Olaplex hair perfector with this kit. I think this was a wise purchase with reasonable price because it will last so long and in salon only one treatment would have cost a lot. I really recommend this seller because the product was real and not fake, delivery was fast and I loved the product. I have to remind that No.3 is sold separately!
---
If you don't want to use that much money, there are smaller travelling kits available. This kit contains Olaplex No. 1 (1 bottle) and No.2 (2 bottles). You can buy No.3 separately. It's only 3.4 oz so it seemed more affordable for me to buy bigger sizes. This kit is great for those who want to try Olaplex for the first time!
---

You can also buy only Olaplex No.3 treatment for once a week strengthener if you have had Olaplex treatment No. 1 and 2 already.
---
I hope this Olaplex review was helpful for you and you found your favorite Olaplex products. If you want to know more about how to get healthy hair, I recommend you to read my articles about hair oils, such as
Jojoba Oil
,
Argan Oil
,
Coconut Oil
 and
Shea Butter
!
Please follow and like us: