ALL YOU NEED TO KNOW ABOUT MINI ZEN GARDEN
-
BENEFITS, MEANING, IDEAS AND HOW TO MAKE A DIY MINI ZEN GARDEN
Find your inner peace with your own mini zen garden, also known as desktop zen garden. If you are stressed in your everyday life, you can make a tiny trip to Japan and escape distracting noises and thoughts by meditating with a mini zen garden on your desktop. Here you can find the meaning and benefits of mini zen gardens and reasons why you should have one. We have also listed and reviewed the best mini zen garden kits and rakes and where to buy them, so you can find the best ideas for your own desktop zen garden.
At the end of this article you can also find a step by step guide about how to make a DIY zen garden and great ideas about it. 
Enjoy – and remember to relax.
MINI ZEN GARDEN
MEANING
What does a zen garden and a mini zen garden mean?
Zen gardens, also known as Japanese rock gardens or dry landscape gardens, were classically created at temples of Zen Buddhism. They were intended to imitate the intimate essence of nature and they were places where people could meditate about the true meaning of life and find their inner peace. Simply, zen gardens were designed to stimulate meditation.
Zen gardens are usually composed of gravel, sand and rocks. However, they can also include small bushes and water features. In addition, all of the features have specific symbolic meanings which makes zen gardens so unique. Next we explain the symbolic meanings of the mini zen garden features.
SAND AND GRAVEL
Gravel is less disturbed by wind and rain so it's rather used than sand. Gravel and sand symbolizes water – purity, emptiness and distance.
RAKING
The act of raking the gravel into a pattern represents of waves or rippling water. Raking is meant to help to practice concentration. Perfect lines are not easy to achieve so it's a great way to meditate. Developing variations in patterns are inspiring and creative challenge.
ROCKS AND STONES
These elements can symbolize various of meanings. Stone arrangements usually represents such as mountains, islands, rivers and waterfalls. One stone could represent a boat or a living creature like a turtle. Group of stones could symbolize even a crane in flight. Shortly, stone can have a meaning what you give to them.
While these gardens are very common in Japan, in western countries we don't always have a peaceful place to clear our mind. With mini zen garden, also known as desktop zen garden, you can have a piece of zen in your home or working spot. Next you can find out the benefits of these mini zen gardens.
BENEFITS
OF HAVING A MINI ZEN GARDEN
Why do you need a mini zen garden?
Not everyone has the time or space to build a real full-sized zen garden on their own but everyone can build a mini zen garden on their home, office or desktop and enjoy the benefits of zen garden.
TOP 5
MINI ZEN GARDEN KIT
What is the best mini zen garden kit? Where to buy a mini zen garden kit?
A mini Zen Garden kit includes at least objects as wooden tray, stones, sand, and wooden rake. Some kits includes also small decor such as a small statue, candle or incense holder. There are multiple desktop zen gardens in the market but it's hard to choose which one is the best option for you. I have gathered here the most useful mini zen garden kits and where to buy them.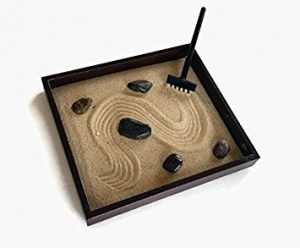 Size:  8.2 x 7.2 x 1.5 inches
Weight:  1.5 pounds
Pricing:  $$
Brand:   Paintspiration
This basic black zen garden kit contains a wooden box, handmade mini rake, sand and stones – all you need for your first mini zen garden. There's nothing extra, just the basic stuff. This kit is great for beginners and those who value simplicity and handmade products!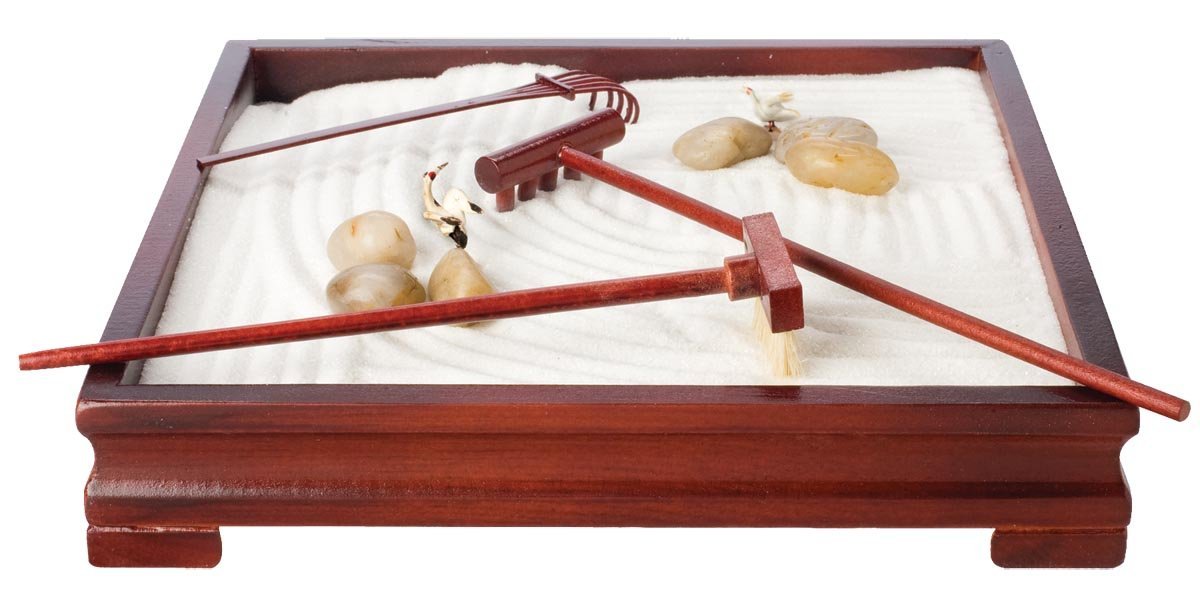 Size: 9.6 x 9.4 x 2.1 inches
Weight: 2.43 pounds​
Pricing:  $
Brand:   Toysmith
This beautiful deluxe sized 9-inch by 9-inch kit is made from rosewood and is perfect for coffee table or office. This kit includes three different rakes; a long-handled rake, a bamboo rake and a broom to create unique and beautiful patterns in the sand. It also includes polished stones and two ceramic cranes. This kit comes with 64-paged meditation booklet with useful instructions for shaping the garden. This is great for beginners also!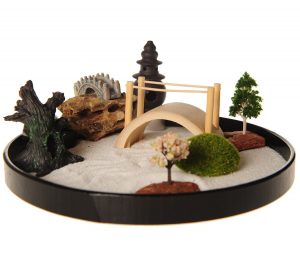 Size: 12.1 x 11.2 x 3.4 inches
Weight:  2.49 pounds
Pricing:  $$$
Brand: ICNBUYS
This kit is definitely best choice for stimulating your creativity and presenting your personal style. If you don't want a original basic zen garden, this kit is your best choice as it comes with various different objects, such as stones, boat bridge and bushes. The tray is quite big; it's 12.1 x 11.2 x 3.4 inches. Objects are also made with high quality materials so this kit is worth to buy. Just an empty tray for you to bring alive!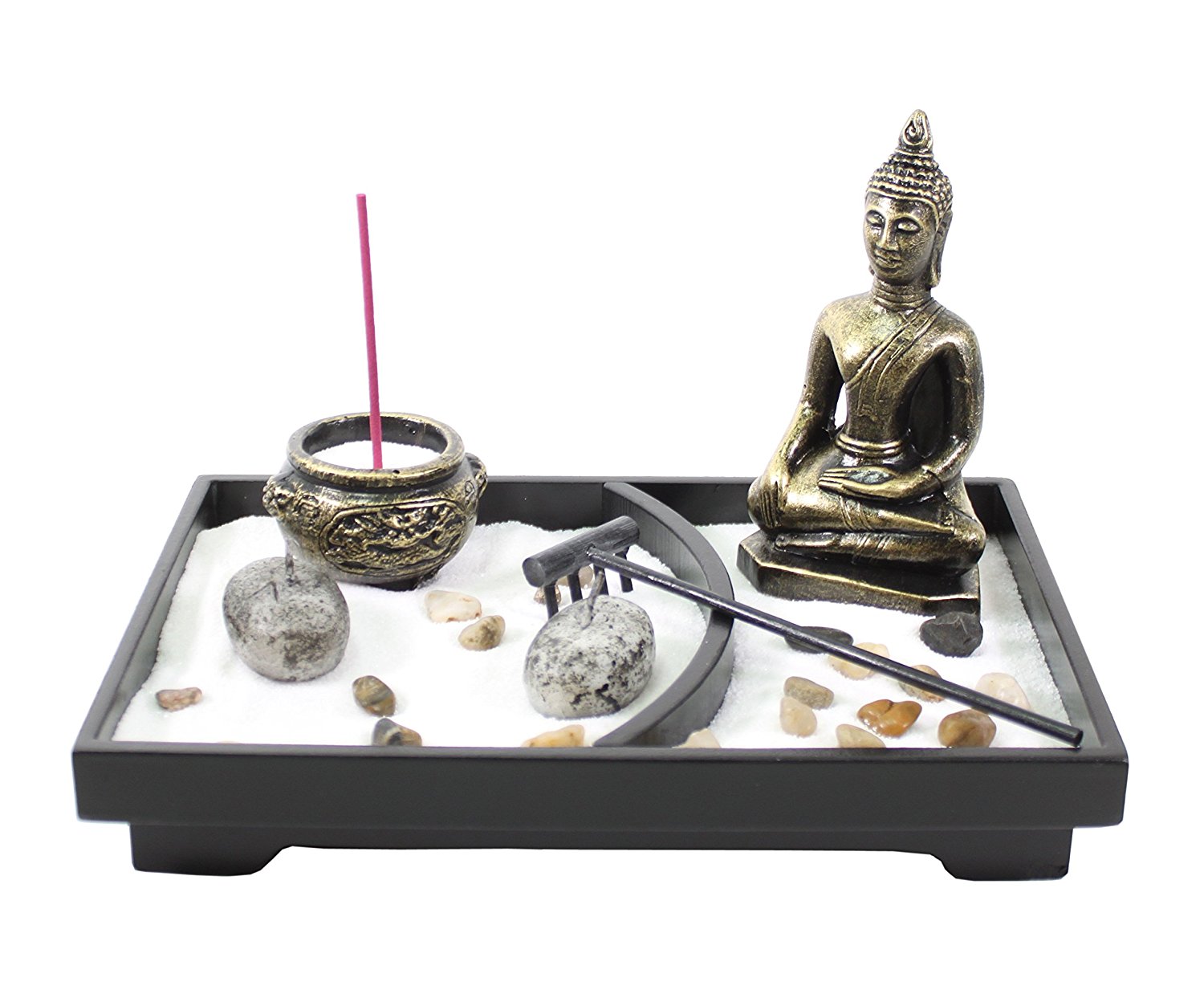 Size: 10.9 x 7.8 x 5.1 inches
Weight:  1.85 pounds
Pricing:  $
Brand: ICNBUYS
This beautiful mini zen garden kit includes multiple objects: sand, stones, a rake, a incense burner, a bag of incense, two candles and a Buddha statue. This kit is totally an eye-catcher in the room and you can definitely enhance your personality with this zen garden. Included incenses makes you relaxed and you can boost your meditation. Great kit for those who have practiced meditation for a while!
Size: 8.6 x 8.6 x 2.1 inches
Weight: 1.55 pounds
Pricing:  $$
Brand: Zangrala
This kit includes the basic stuff but also a healing crystals which promotes the healing energy of your zen garden. Five unique crystals are clear quartz, amethyst, rose quartz, black tourmaline and citrine. Different to other kit is also that container is made from faux leather. Different crystals have unique meanings:
Clear Quartz: A master healer, helping to remove negative energy, clear quartz is considered to be the supreme gift of Mother Earth. It balances mental, physical, emotional and spiritual planes as it opens the heart and mind to higher guidance. Clear quartz amplifies thought, energy, and the effect of other crystals.
Amethyst: Amethyst crystal cultivates balance, peace, patience, healing, prosperity, abundance and sobriety. It's used to enhance intuition and increase spirituality.
Rose Quartz: Rose quartz nurtures the heart and provides comfort and emotional well-being with a gentle and soothing energy.
Black Tourmaline: Black tourmaline is a protective and grounding stone that repels negative energies. It's purifying and electrical in nature and is known to be empowering, encouraging good luck and happiness.
Citrine: Citrine is bursting with positive energy. It kindles success, joy, abundance, self-confidence and personal power. Citrine improves mental clarity and enhances spiritual growth.
This kit is perfect for spiritual people!
TOP 3
MINI ZEN GARDEN RAKE
What is the best mini zen garden rake? Where to buy a mini zen garden rake?
Having a rake with a good quality is extremely important to achieve soothing meditation experience with a mini zen garden. As the rake represents waves in the water, flawless lines aren't easy to make. With a proper mini zen garden rake you can practice concentration and meditate effortlessly. I have gathered here the best mini zen garden rakes and where to buy them.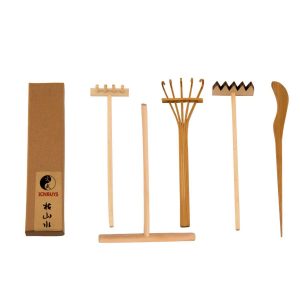 Size:  2.2 x 1.3 x 12 inches
Weight:  2.4 ounces
Pricing:  $$$
Brand:   ICNBUYS
This mini zen garden rake set contains three different rakes, one bamboo drawing pen and one pushing sand pen. With this set you can make various patterns on the sand as all the rakes are different. If you are looking for great mini zen garden rake set, this is the best set you can invest to.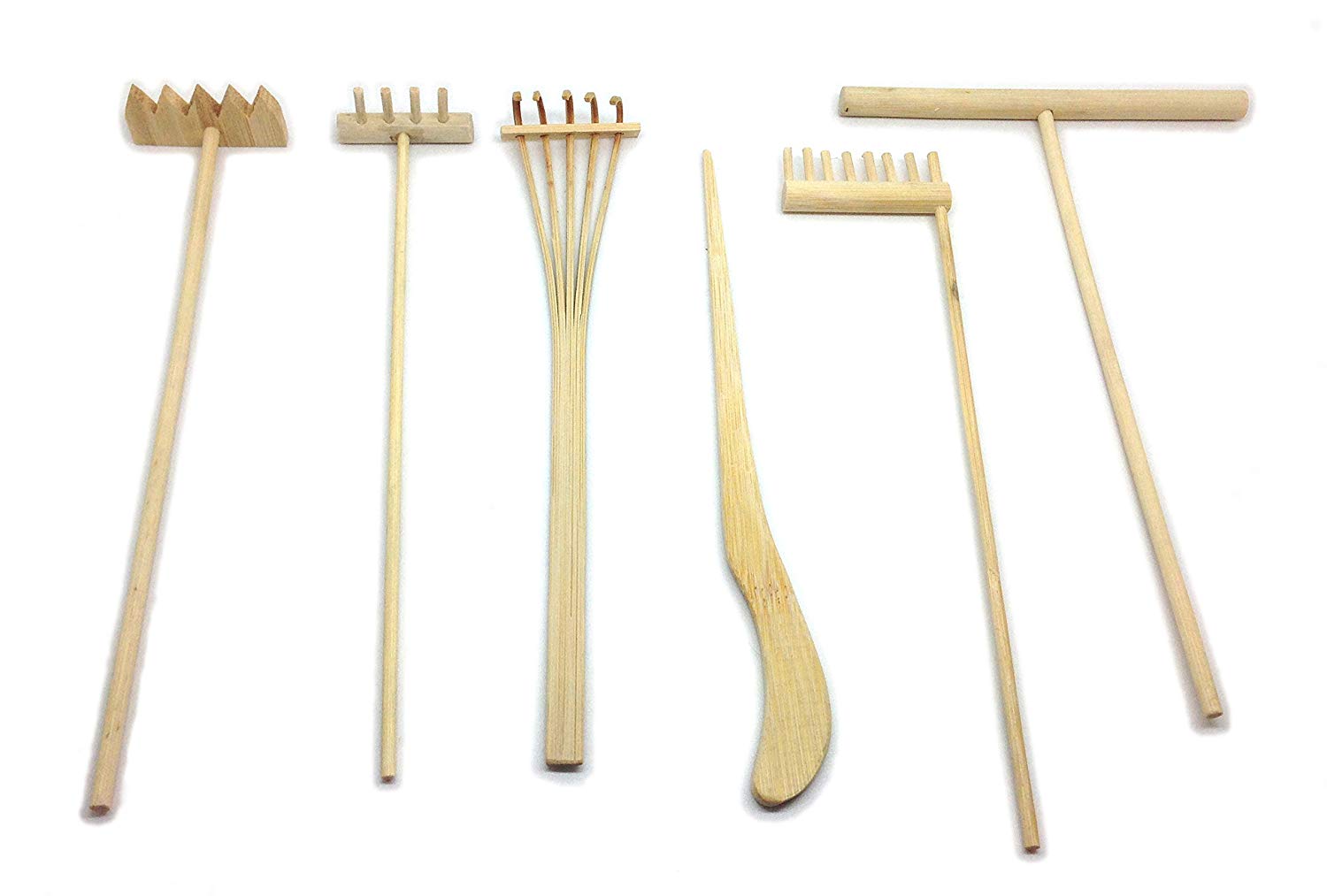 Size: 8 x 2.3 x 1 inches
Weight: 0.64 ounces
Pricing:  $$
Brand:   Zen Life
This set includes six different pieces to bring your mini zen garden alive. Set is made from bamboo. Rake set contains four different rakes, drawing stylus and sand smoothing push rake for erasing designs and flattening the sand. Great set for someone who want to make creative sand patterns.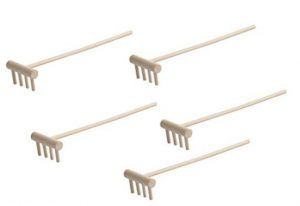 Size:  9.4 x 3.6 x 1.5 inches
Weight: 1.6 ounces​
Pricing:  $
Brand: BangBangDa
This is a very basic set of six rakes. Each rake looks exactly the same and they are made of wood. This mini zen garden rake set is excellent for those who are just getting to know the world of mini zen gardens.
DIY MINI ZEN GARDEN -
HOW TO MAKE
Step by step instructions about how to make a DIY mini zen garden, what tools you need, where to buy them. Find the best ideas for DIY desktop zen garden!
Usually a desktop zen garden has three main elements which are sand, stones and raking. However, you don't need to stick with these traditional elements, and you can make a creative desktop zen garden which looks and represents you and your personality. Your DIY mini zen garden can feature modern elements such as mini bonsai trees, plants, colored sand, decorative mini buddha statues or other statues and even zen stamps to create beautiful flowery patterns into sand. Different mini zen garden accessories make your own mini zen garden interesting. Use your imagination! Nevertheless, keep in mind that you are creating relaxing and mindful decor so make your accessories decisions to complement those emotions.
WHAT DO YOU NEED TO MAKE A DIY MINI ZEN GARDEN?
Making your own desktop zen garden is easy and very affordable. Also the building process can be very relaxing and creative!
There are three main items and three optional accessories you need for simple DIY mini zen garden and they are listed below: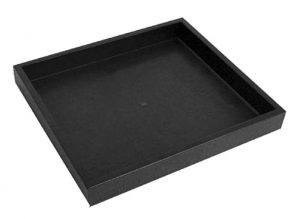 Size: 7 1/4″ x 8 1/4″ x 1″
Material: Plastic
Color: Black
Pricing:  $
Brand: Display and Fixture Store
You can get any container you like; a round container, a square container, that's up to you. Make sure the container you choose has a high borders so the sand will fit in.
Where to buy mini zen garden container?
We tested this excellent plastic container and it's available on Amazon with very reasonable price.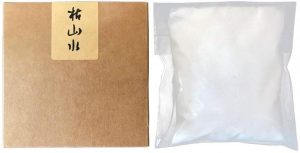 Package dimensions: 4.4 x 4.4 x 1.3 inches
Weight: 14.4 ounces
Material: Selected mesh number from 80 to 40
Color: Light beige
Pricing:  $
Brand: ICNBUYS
To make perfect patterns, you need very fine sand. The color can be any you like the most. We recommend to buy light colored sand because it's usually the most relaxing. You can add a fun twist with colored sand!
Where to buy zen garden sand?
The ICNBUYS's sand is made especially for mini zen gardens, so with this you can't fail. The sand is extremely fine and you can create patterns easily. Very cheap compared to other sand options! Available on Amazon.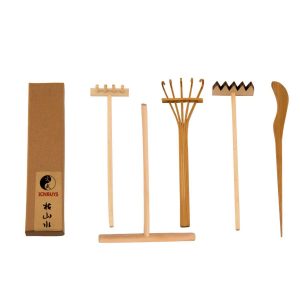 Size:  2.2 x 1.3 x 12 inches
Weight:  2.4 ounces
Pricing:  $$$
Brand:   ICNBUYS
It' very important that you have a rake that has high quality. If you use a rake that has uneven spikes etc. you can't create patterns very well.
Where to buy mini zen garden rake?
With ICNBUYS you can't fail. These rakes are very high quality and they slides easily onto the sand making perfect patterns. Best desktop zen garden rakes you can buy for your DIY zen garden. Available on Amazon.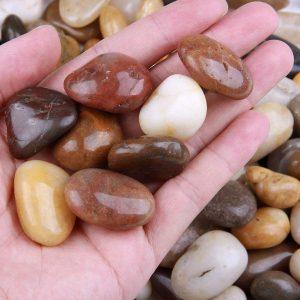 Size: 1″
Weight: 5.1 pounds
Pricing:  $
Brand:   Skullis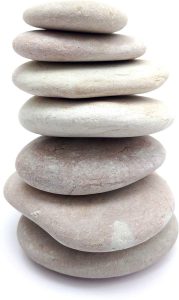 Size: 1.75 – 2 inches in length
Weight: 1.7 pounds
Colour: Light grey
Pricing:  $
Brand:   Capcouriers
You can make very beautiful decorations and patterns with stones and rocks. Different colored pebbles are beautiful and balancing stones are great eye catcher. Use you imagination with these!
Where to buy desktop zen garden rocks and stones?
We tried different colored pebbles and balancing stones. Trying to balance those stones can be very relaxing and it practices concentration! We highly recommend balancing stones for DIY mini zen garden. Both are available on Amazon.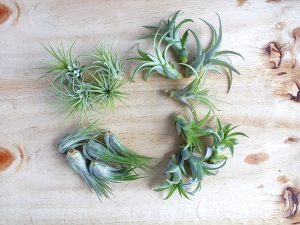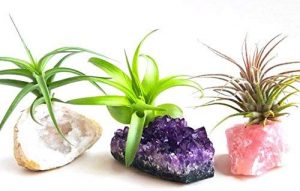 Plants have a very relaxing effect on people and with plants you can show your personality. Plants are very common accessories in zen gardens. You can use air plants, succulents, moss and mini trees. Air plants are very popular in DIY mini zen garden as they don't need soil to grow. Make sure you pick plants that don't grow too tall. If you want easy solution you can buy artificial faux plants for decoration.
Where to buy plants for DIY mini zen garden?
There are many different plant options available on Amazon for DIY mini zen garden. We tested real air plants, real air plants with healing crystals and fake succulent plants. All of them are excellent choices! Naturally, the fake succulent plants are the cheapest.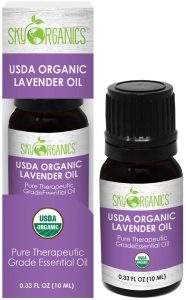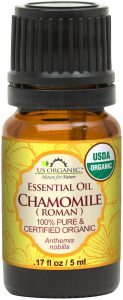 You can add your favorite essential oils to enhance the relaxing benefits of your DIY mini zen garden. Just drop a few drops into the sand. Don't use essential oils too much as it tends to have extremely strong scent! Choose the scent you prefer the most. 
Where to buy essential oils?
Essential oils are all natural and we used only organic and certified products.  Lavender essential oil is commonly used for relaxation, therefore it's excellent choice. Other great options are for example ylang ylang essential oil and chamomile essential oil.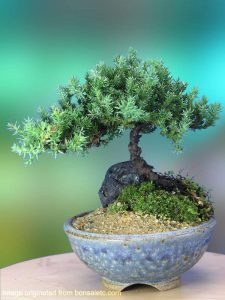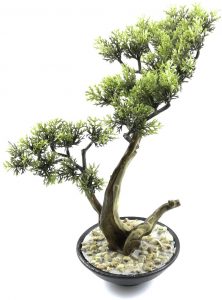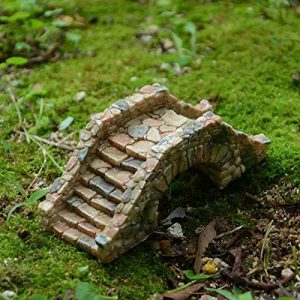 If you want to go wild, you can get a miniature bonsai tree, or mini zen garden stamps to create beautiful and unique patterns into the sand. Fun detail can be also a miniature bridge or other item. 
Where to buy mini bonsai tree and other accessories for DIY mini zen garden?
There are very creative and relaxing accessories available on Amazon. We recommend to go through the exact item you are looking for. You can take the ideas from our three favorite mini zen garden accessories below.
Bonsai tree is a real eye catcher, you can get a fake one which is cheaper, or real one with more money. These both are very small and they fit perfectly for DIY mini zen garden. 
One very unique accessories are small bridges. They are very beautiful and suits great for a zen garden. 
You can also make beautiful and unique patterns with mini zen garden stamps. These are the complements for a basic rake.
HOW TO MAKE DIY ZEN GARDEN - STEP BY STEP INSTRUCTIONS
STEP 1. Fill your container with sand
Put the sand into container. Add a few drops of essential oil into the sand if you want. Shake the container to even the sand.
Pro tip: if you want to have a wet looking sand, add a few drops of all natural jojoba oil to make your sand patterns to stand out.
STEP 2. Place plants onto the sand
Plants are great way to bring nature into you DIY mini zen garden. However plants aren't necessary elements on mini zen gardens.
If you are using real plants, add them before pouring the sand. Place a divider into the sand before adding the plants.
STEP 3. Add stones and rocks onto the sand
Stones are very beautiful and important elements in desktop zen gardens. You can add them into the corner with group or just place them separately from each other – this is basically just up to you and what you prefer. One very interesting mini zen garden idea is to add balancing stones to make a great eye catcher. 
STEP 4. Place statues and other accessories onto the sand
Place your favorite statues and accessories onto the sand to make a relaxing decoration. Some great ideas for statues and mini zen garden accessories are for example miniature pandas or laughing buddha statues. Choose something that makes you happy and relaxed. Try for
 example a miniature bonsai tree for a mini zen garden!
STEP 4. Start raking!
Now you are ready to create most enjoyable patterns. Use the regular mini zen garden rakes or try something new like mini zen garden stamps!
Now you have your own DIY mini zen garden! Place it onto you desk or your room and meditate and practice mindfulness anytime you want.
HOW TO USE
A DESKTOP ZEN GARDEN?
Mini Zen Garden on Youtube
I have gathered here the most relaxing videos of meditating with a desktop zen garden. You can just watch and relax while listening these soothing sounds of raking the sand and moving stones. These videos also shows how to use mini zen garden. Please listen these videos with headphones. Enjoy!
FAQ ABOUT
A MINI ZEN GARDEN
Frequently asked questions about a mini zen garden. With this you guide you know everything about mini zen garden.
Mini zen garden is used for relaxation and meditation every time you want to. With mini zen garden you can meditate easily and effectively during stressful situations. Mini zen garden relieves stress and anxiety and enhances creativity.
You can make your own DIY mini zen garden easily. 
Tools you need:
That's all you need to make your own DIY mini zen garden. Read above more thorough step by step instructions for how to make a DIY mini zen garden.
Fill your container with sand
Place plants onto the sand
Add rocks and stones
Place statues and other desktop zen garden accessories onto the sand
Start raking!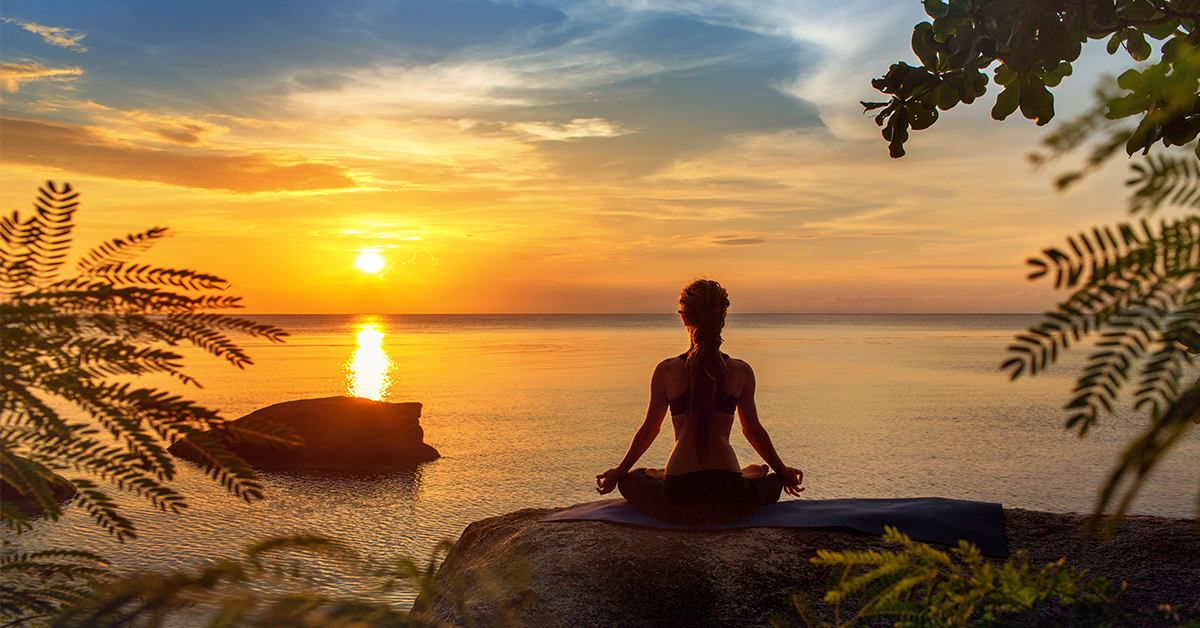 The popularity of meditation is constantly growing and its health benefits cannot be unnoticed. With meditation you can train your mind to redirect thoughts. By mastering meditation you can bring calmness and tranquility to your everyday busy life. You can use it to increase awareness of yourself and your surroundings. Many people meditates because they want to reduce stress and develop concentration. Meditation also helps with insomnia and....
Read More >>