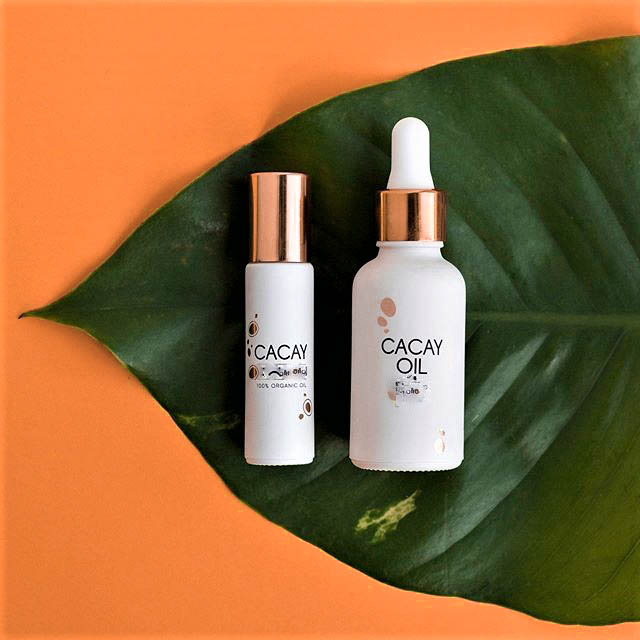 What is cacay oil?
Cacay oil, also known as kahai oil, has been used for hundreds of years to treat burns and irritations and other skin problems. Cacay oil has also effective emollient and skin remedial properties. All natural cacay oil origin from Columbian Amazon where the actual oil is derived from the nut of the Cacay tree, Caryondendro Orinocense. Kahai oil is rich in nutrients, such as vitamins, antioxidants and essential fatty acids. Its consistence is light, and it absorbs into skin quickly without making the skin greasy or sticky. Cacay oil suits for all skin types, it's vegan and non-irritating. If you are allergic to nuts, you should do an allergy test before using cacay oil in vast areas on the skin.
CACAY OIL FACTS
Scientific Name: Caryodendron Orinocense
Comedogenic rating: 1 – 2
Shelf Life: 2 years
Scent: mild, pleasant odor
Color:  Light to Medium Orange
Absorption: Absorbs into skin quickly without leaving sticky or oily residue.
Best for Skin Types: 
All skin types
Best for Skin conditions: 
Mature & aging, acne prone, irritated
Effective compounds: 
Vitamin A – Retinol (three times more than rosehip seed oil)
Vitamin E and F (higher levels than argan oil)
Linoleic acid
Cacay oil for face – Top 6 Benefits
Cacay oil is quickly becoming one of the most essential ingredients in natural skincare. Its vitamin levels are much higher compared to the most general natural oils like argan oil and rosehip oil. Cacay oils ability to improve skin tone and reduce and treat different skin problems is the most important reason why you should start using this miracle oil in your natural skincare routine. If you are looking for a highly effective facial oil to boost your skin care, cacay oil is the solution. In addition, kahai oil is gentle for all skin types and it can be used also for other parts of the body, such as for nails and cuticles. That said, let's find out top 6 benefits of cacay oil for face.
Cacay oil has anti-aging properties
Cacay oil is a natural source of Vitamin A (retinol), which boosts skin cell production. Actually, it contains three times more Vitamin A than rosehip oil, which is considered the most effective natural anti-aging oil for skin. Many anti-aging products contains a high dose of Vitamin A for its anti-aging effects. With cacay oil you can get the benefits of Vitamin A naturally applying it directly onto your skin. Cacay oil helps to reduce wrinkles and keep the skin firm and healthy. It's also absorbs deep into the layers of skin, helping to stimulate collagen production.
Cacay oil is rich in Vitamin E, making it ideal for moisturizing. Also, Vitamin E stimulates the renewal of cells and with this, your skin gets the benefits of having fewer deep-set lines. In fact, kahai oil has a higher levels of Vitamin E and Vitamin F than highly popular Argan oil. Cacay oil keeps your skin looking youthful and healthy.
Cacay oil is great for acne prone skin
Acne skin often suffers from damaged hydrolipidic layer of the skin, making it prone to break outs. Usually acne skin is very sensitive, and continued soap washes worsens the condition of the skin, making it even more sensitive which leads to break outs and infections.
Cacay Oil is great at assisting the repair of the hydrolipidic layer of skin. With combination of linoleic acid, Vitamin A, Vitamin E and antioxidants, cacay oil is one of the most effective treatment for acne. Linoleic Acid is one of the primary components that make up the outer membrane of healthy skin cells, and therefore keeps skin nourished and protected. Cacay oil contains twice as much of linoleic acid than argan oil. High linoleic acid levels is considered being non-comedogenic. Cacay oils comedogenic rating is 0-1. Therefore, it's great natural oil for acne prone skin.
In addition, Vitamin A, or retinol, is considered highly effective while treating acne. According to the American Academy of Dermatology, Vitamin A (retinol) can help treat and prevent inflammatory acne lesions. The organization recommends using topical retinoids to treat several types of acne. Cacay nut oil contains a high amount of sensitive skin and acne friendly retinol, making it excellent acne treatment natural oil.
Kahai oil lightens scars and stretch marks on the skin
With tremendous amounts of vitamins and essential fatty acids, cacay oil makes great scar lightening oil. Kahai oil helps to aid skin regeneration making it effective if you want to fade old acne scars or stretch marks. Also, cacay oil is rich in Vitamin A, which is considered having an effective natural skin lightening property. Therefore cacay oil is very effective ingredient in all natural & organic eye creams, because it lightens dark circles and reduces wrinkles.
Reduces wrinkles on the skin
Cacay oil is one of the best oils for preventing wrinkles on face and neck. With its antioxidants and linoleic acid, cacay oil ensures your skins elasticity and keeps it moisturized. With these properties, your skin will have fewer wrinkles. You'll also enjoy the benefits of a having a skin surface cell turnover.
Natural treatment for rosacea
Abnormalities in the blood vessels of the face cause the flushing, persistent redness, and visible blood vessels. This is called rosacea, which is a common skin condition. Rosacea can also produce small, red, pus-filled bumps. Together with antioxidants and essential fatty acids, cacay oil normalises blood flow and helps to reduce the symptoms of rosacea.
Cacay oil balances oily skin
Excessive sebum production can lead to oily skin. Oily skin happens when the sebaceous glands in the skin make too much sebum. Sebum is the waxy, oily substance that protects and hydrates the skin. Sebum is vital for keeping the skin healthy. Those who has an oily skin, often washes and exfoliates the skin too much, which leads to even more oil production. Washing can strip away too much of the oil from your skin, leading the skin to produce oil even more to make up the loss.
Cacay oil maintains the healthy sebum. It is a dry oil, which absorbs into skin quickly, making it great for oily skin. It doesn't leave oily or sticky residue. Vitamin A reduces the oil production of the skin, and linoleic acid balances the skins natural hydrolipidic surface.
Read also: Best natural deodorant review
Best Cacay Oil Brands - Review
There are multiple cacay oil brands on the market and it's hard to choose wich one is the best. Luckily, we have tested and reviewed the best cacay oils for face and skin. Here are the three best cacay oil brands!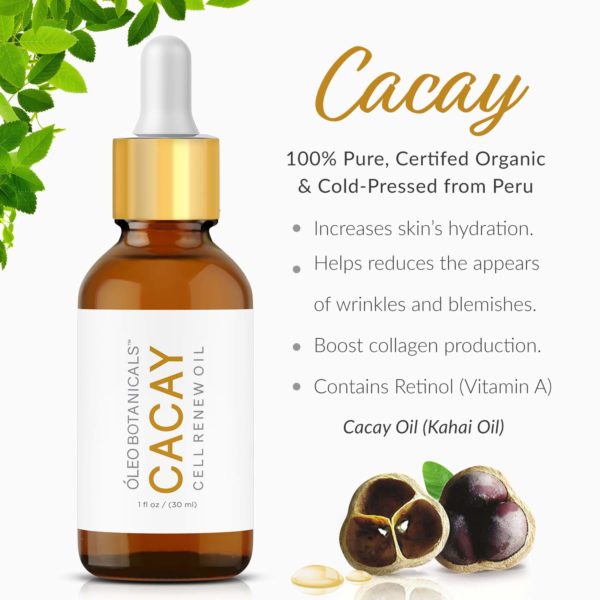 Óleo Botanicals is know for their high-quality ingredients. Their cacay oil is premium quality, and comes from the Amazon Rainforest in Peru. This cacay oil is also certified, so it's fair traded and sustainably sourced from ethical suppliers.
We found Óleo Botanicals kahai oil the best cacay oil brand, because of its very high-quality. The bottle comes with a dropped so it's easy to use. Also the oil itself is dry and it absorbs into skin amazingly quickly. This definitely the best cacay oil you can spend your money on.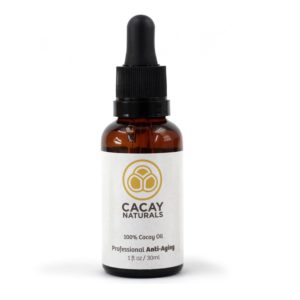 Cacay Naturals produces only cacay oil, therefore the brand is expert on cacay oils.
We found instant improvement in the overall texture, clarity and hydration of our face when using this kahai oil. It's not greasy and it absorbs quickly. Excellent bottle with a dropper. Also the delivery from Amazon was super fast! We highly recommend this cacay oil brand.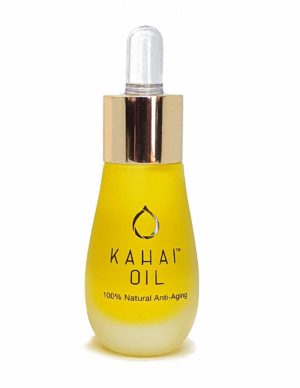 Cacay oil brand called 'Kahai SAS' is a true pioneer of producing cacay oil products. Kahai SAS is the first company in the world to industrialize the cacay. They are dedicated to the production, manufacturing and commercialization of Cacay tree products. They apply Fair Trade principles in order to increase communities' welfare. They also promote Eco-Friendly practices in the plantations, to minimize the impact on the ecosystem.
This said, their kahai oil is one of the best you can buy. Excellent consistency without leaving oily residue. Absorbs quickly into skin. By buying this cacay oil, you support the social, environmental and economical positive development.
How to use cacay oil for face?
Where to buy cacay oil?
toggle:
What is Cacay oil good for?
Is Cacay oil comedogenic?
Which oil is best for glowing face?
Does Cacay oil clog pores?
Is Cacay oil better than rosehip oil?
Is Cacay oil good for acne?