Bakuchiol is a natural source of retinol - I tried Bybi Beauty Bakuchiol Booster for a month and here are the results of my review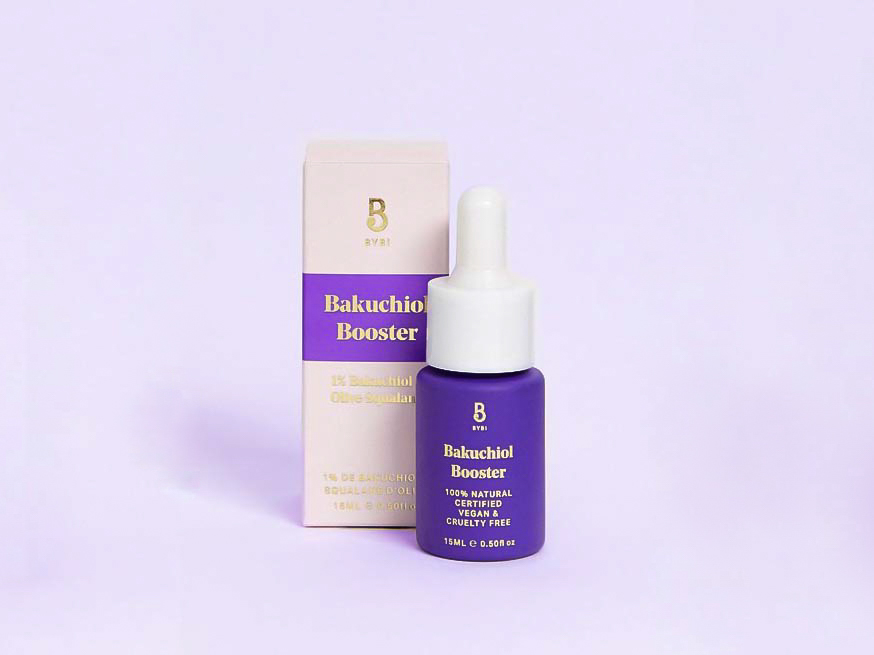 Bakuchiol is a plant extract that offers the same skin benefits of a retinol without the troublesome side effects. This bakuchiol booster review helps you to decide whether or not bakuchiol suits for you.
Scent of Bakuchiol Booster
Bybi Bakuchiol Booster smells mild and pleasant. It has the characteristic scent of squalane, but it smells almost nothing. Booster does not contain any added fragrances, so it is great for odor sensitive!
Composition - What is Bakuchiol Booster?
Bybi Bakuchiol Booster consists of 99% squalane and contains 1% bakuchiol oil as active ingredient. The composition is lightweight, and it spreads smoothly into the skin. Also, absorption is top notch as my skin instantly absorbs oil. The skin will not get oily or greasy, unless I accidentally spill too much oil on my skin. About three drops is enough for whole face and neck.
Squalane is naturally present in the skin. It has a very thin, non-greasy feel that doesn't leave oily residue. It also protects the skin from sun damage and promotes cell renewal. In addition, squalane is effective in treating scars, rashes and other skin lesions. It also prevents the formation of pigment spots. Squalane is a very common ingredient in skin care products, as it is suitable for almost all skin types. Squalane is also great for acne prone skin as it is non-comedogenic.
Bakuchiol is a natural alternative to vitamin A or retinol. However, this is not the actual retinol serum, but bakuchiol acts in the same way as retinol. Among other things, it promotes the production of skin collagen like retinol. In addition, bakuchiol reduces the signs of aging, smooths out fine lines and wrinkles, and stimulates tired skin and repairs sun damage. Bakuchiol is also suitable for acne prone skin as it does not clog pores and it has antibacterial properties. It thus serves as an effective aid in the treatment of acne and pigmented spots.
User experience - How to use Bakuchiol Booster?
My skin is dry and it get pimples occasionally. I also have redness in my cheeks. The recommendation was to apply the oil a few times a week initially to get the skin used to the product. After that, I dared to add a booster in the evening. I used only all natural skincare products while testing Bakuchiol Booster (I have linked the products below). I used these products in my skincare routine:
Cleansing milk
Hydrating toner with Vitamin  C and  retinol
Serum
Face cream
Sometimes I skipped the serum to test the effectiveness of the bakuchiol booster. The booster also worked well when mixed with a face cream.
The skin felt moisturized immediately after use. My skin didn't react badly. After a few days of use, I noticed that my face was much 'brighter' in the mornings. I suffer from reddening cheeks, but after using bakuchiol, the color of my skin has evened out. Retinol can cause the skin to dry, but bakuchiol booster did not cause dryness at all; vice versa.
I also tried Bakuchiol Booster a few times in the morning to see how the product works under makeup during the day. I did not notice any greasy properties and the makeup stayed good all day. Nor did the face get greasy during the day.
I started to notice the positive effects of Bakuchiol Booster after about a week of use. My skin looks healthier, my cheeks don't get red as much as before, and my skin looks smoother anyway. Small lines are slightly less noticeable. By the way, my face is a bit more vivid.
Also, my very clogged skin did not explode during use. As the skin got used to the product at the beginning, my cheek pushed a few small pimples. However, they disappeared when I took a couple of days off using the product. I am very surprised by the results!
I would recommend this product especially for lifeless skin that needs a boost. Excellent choice for aging skin. Dry skin also receives intensive care from the bakuchiol booster. Booster is non-greasy, so it is useful for oily and combination skin to make skin more balanced.
Use only a few times a week on acne prone skin as the booster may clog the pores. It might be a good idea to test on your own skin, even in small areas at a time, and see how your skin reacts. Even for sensitive skin, it is a good idea to do a patch test before use.
I would buy Bybi Bakuchiol Booster again. Sometimes my skin needs intensive care and the positive results speak for themselves. According to this Bakuchiol Booster review the experience of the booster was terrific!
Where to buy Bybi Beauty Bakuchiol Booster?
Bybi Bakuchiol Booster is available on Amazon:
Other natural bakuchiol products in Amazon US
Product claims:
Caption from BYBIs website:
All natural retinol alternative! 1% Bakuchiol in Olive Squalane boosting facial oil, the Bakuchiol Booster is a plant-derived, 100% natural and vegan retinol alternative (aka Vitamin A). A small but potent boost for your skincare routine, the Bakuchiol Booster stimulates collagen production, helps improve skin condition and is a gentle retinol alternative.

1% Bakuchiol oil and 99% Squalane oil booster. Bakuchiol is a plant derived, 100% natural alternative to vitamin A – aka retinol. Designed to be used as part of your existing night time routine, this powerful yet gentle ingredient is a game-changer as it's directly linked to collagen production and can dramatically improve skin texture. Results = rejuvenated, plumper skin, with reduced lines and signs of tiredness.

If you've heard of retinol then you'll know it's awesome for smoothing and firming but not so awesome for sensitive skin. Bakuchiol is different. Extensive research has proven it has exactly the same benefits for the skin- stimulating collagen production to improve texture – but it comes WITHOUT the negative side effects that include dry/flakey skin, irritation, inflammation or increased photosensitization. Teamed with the skin softening properties of olive squalane, this is one powerful boost for your skin.

For skin that's feeling a little damaged.
INCI:
Squalane (Olive), Bakuchiol
COUNTRY OF ORIGIN:
United Kingdom
Conclusions about Bakuchiol Booster review